Useful tips
ABOUT SARAJEVO
Sarajevo is the capital of Bosnia and Herzegovina. Sarajevo is the country's administrative, economic, cultural, education and sport center. The City of Sarajevo is divided into four municipalities: Stari Grad, Centar, Novo Sarajevo and Novi Grad. Sarajevo is located in the Sarajevo Field, surrounded by the Olympic mountains: Bjelasnica, Igman, Jahorina and Trebevic. Most of the Sarajevo's tourist attractions are located in the Old Town known as Bascarsija spreading towards the city centre easily reachable on foot and well connected to other parts of the city and to the surrounding mountains and other natural and cultural sites by public transportation.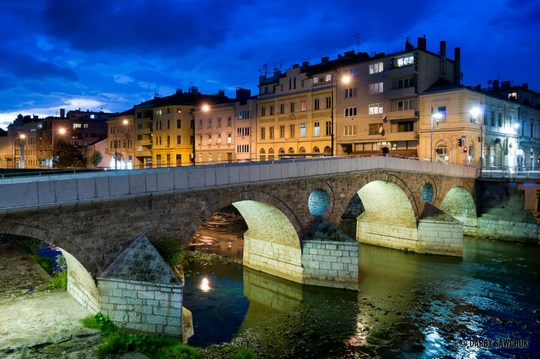 ABOUT HOTEL HOLIDAY

Hotel Holiday is a modern and luxurious hotel,  located in the heart of Sarajevo and epicenter of business activity. It was  built in 1984 during the 14th Winter Olympic games Sarajevo , and since then is a witness of Bosnia and Herzegovina's recent history and a certain check point  for businessmen and tourists. The creator and mastermind behind the design is the celebrated Bosnia and Herzegovina's architect Ivan Štraus. With his specific artistic expression he succeeded in conveying the essence of the people and the aesthetic of the traditional house into a structure of such contemporary design. That approach is best articulated in the interior which is designed  to portray the intimacy and the aesthetic of the courtyard indigenous to Bosnia and Herzegovinas architectural and cultural tradition.

Spacious and comfortable, with a modern interior and intimate ambience, hotel Holiday has ten floors with 380 graciously  decorated accomodation units, from which 364 are rooms and 16 suits. All hotel rooms have air conditioning, tv and a mini bar,  bathroom that includes a tub and shower, hair dryer and bathrobes. All facilities include sitting areas, satellite tv and free wifi.

The hotel  holds a garage with the capacity for 50 vehicles, an outside parking lot with circa 500 parking spaces suitable for cars as well as buses.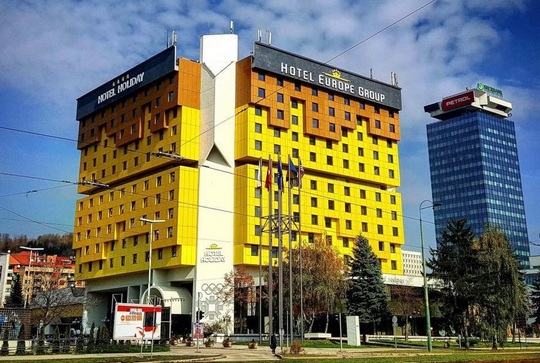 Check-in: from 14.00
Check-out: to 12.00

Breakfast: from 6.00 to 10.00

Address:  

Hotel Holiday Sarajevo
Zmaja od Bosne 4
71000 Sarajevo
Bosnia and Herzegovina
Tel. +387 33 288-200
Web: http://www.hotelholiday.ba/en/

Map: